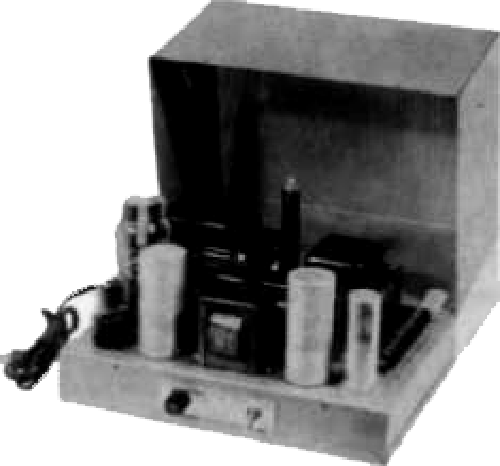 Specifications
6V. @ 6A. OR 12V. @ 3A. AC for filaments.
230 volts @ 80 ma. DC output.
475 volts @ 170 ma. DC output.
Separate filament and plate transformers.
Jones barrier strip for convenient connections.
Includes a mounted switch which can be used for AC "on-off" or "transmit-receive" switch.
Cabinet matches AF-67 Trans-citer.
Primary circuit fused.
Separate rectifier and filter circuits for each DC output.
Both DC supplies use choke input filters
Uses 1 - 5U4G and 1 - 6X5GT tube.
24 volt tap on filament transformer for control or bias supply.
Size, 11 1/4" wide, 7" high, 8 1/2" deep.
Weight, 26 lbs.

Designed for use with the Multi-Elmac AF-67 Trans-Citer or a variety of other applications.